MarkMagic
MarkMagic® barcode labeling software is the easiest way to design and print the barcode labels, electronic forms, reports, and RFID tags on IBM Power Systems i (AS/400), IBM AIX, Windows, Mac, Linux, or the cloud!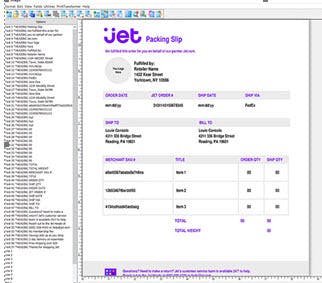 MarkMagic
Barcode Labels and Forms Design and Printing Solution
A total barcode labeling software solution. MarkMagic solves barcode labels and forms design and printing challenges in one software package. MarkMagic is the print engine inside major WMS and ERP software solutions Manhattan's WMi/WMOS, VAI S2k, Infor, and many others.
MarkMagic provides the power and functionality needed to design and print all electronic documents, including Barcode Labels, Forms, E-Commerce Collates and RFID Tags with no programming.
Thousands of Customers worldwide depend on MarkMagic to create and deliver professional documents and compliant labels and tags every day. Easily customize your formats with innovative options designed to meet customer's specific requests and omnichannel requirements.
Design Your Own Forms and Labels
Create forms, labels, receipts and business documents just as you want them without writing any code. JMagic Designer, is easy to use and comes free with every license.
JMagic Forms and Labels Designer lets users create complex documents with a simple WYSIWYG (What You See Is What You Get) interface. MarkMagic barcode labeling software combines true report writing, label and forms design, barcode labeling, and an enterprise-class print processing engine in one integrated product. MarkMagic feature JMagic Designer for FREE with your developer license.
IBM AS/400 Native & Proud of it
MarkMagic is designed to run on the IBM Power Systems i (AS/400). But MarkMagic also can run on IBM AIX, Windows, Mac, Linux, and the cloud. MarkMagic also supports more than 450 barcode printers and thermal label printers. Printers we support include Toshiba, Zebra, Ricoh, Printronix, Sato, Avery Dennison, Datamax, and many more.
Go Green with MarkMagic and SATO
MarkMagic offers eco-friendly printing and packing solutions that go hand-in-hand with SATO's GY412 printer. Put both sides of your labels to use while making significant environmental progress that benefits both the earth and your bottom line. How? With MarkMagic and SATO's duplex label printing solution - Part of CYBRA's MarkMagic portfolio of Green Supply Chain Solutions.

Automate Your Form and Label Printing
Easily create rules and conditions so you don't have to do any programming to get your printing done. The rules you create will make sure that only files that meet user-defined criteria will be automatically printed.
You can even automate printing processes using print jobs so your automated jobs come out right every single time.
Which Version of MarkMagic is Right For You?
MarkMagic runs natively on the IBM AS/400, and doesn't require a separate server. That's why our barcode labeling software is so fast. MarkMagic is available for IBM AIX, Windows, Mac, Linux, and the cloud. MarkMagic is also available specifically for forms and labels.
MarkMagic also offers 6 add-ons to increase your form and label production capabilities.
PrintTransformer - Print fields based on user-defined conditions such as printing negative values in red, or hiding a box field if a carrier-class of service does not require a box field to print.
PrintMonitor - Eliminate excessive programming. PrintMonitor automatically runs a MarkMagic Job when a spooled file appears in an Output Queue or when a record is added to a file.
2D Laser Barcode - Add Data Matrix, MaxiCode (UPS), QR Code, and PDF 417 2D barcodes to your laser printed collated forms. Great for catalog merchants, and e-commerce websites.
PDF / Fax / Email - Create and send PDFs as e-mail attachments or via fax with searchable text and readable barcodes. Great for e-mailing invoices, statements, or labels.
RFID Quick Comply - Quickly and easily comply with your trading partner's EPC (Electronic Product Code) mandate. Manage serial numbers and print RFID tags and labels on demand.
FormWeaver - With FormWeaver you can print documents that combine multiple formats. Merge two or more formats on one page, such as a pick ticket or invoice with a shipping label.
Quick Links