FreshLoc2Go-SATO Safe Seal Tamper Evident Labels
As take-out and delivery continues to dominate the food scene, so has customer concern for the security and quality of their food. SATO's new FreshLoc2Go Safe Seal labels provide reassurance that each order has remained untouched in transit from the restaurant kitchen to the customer's home. These pre-printed labels are permanent and pressure sensitive so when the label is removed, it separates into pieces, indicating tampering.
Benefits of Using SATO FreshLoc2Go Tamper Evident Safe Seal Labels
Permanent adhesive prevents the labels from being peeled off cleanly. When peeled, the label will separate to indicate tampering.
Usable on a variety of take-out containers and delivery bags including paper, foam and plastic.
Pre-printed with safety sealed text and icon for easy identification.
Labels are ready to be hand-applied with ease.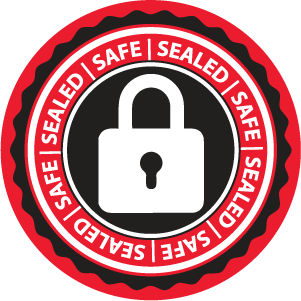 2" Round Labels
The universal size of these 2" round labels allows them to be easily used on a variety of packaging shapes and sizes.
Available in red and green.

1.5" x 4" Labels
The longer design of these 1.5" x 4" labels is ideal for larger food containers or for instances where the label needs to fold over a bag or container to properly seal it.
Available in red and green.
Looking for further help with labels, tags, software, connectivity of your printer, or other general applications?
Contact Us