WS2 Healthcare Printer & Label Kits

To support the growing need of healthcare supplies during the COVID-19 pandemic, SATO is introducing pre-packaged healthcare kits to provide ready-to-use solutions for hospitals, clinics, pop-up field hospitals and testing sites

---
Healthcare Kit Options
Kit 1
Kit 2
Kit 3
Kit 4
Part Number
HC-WS2202-WB2X1A
HC-WS2302-WB2X1A
HC-WS2202-WB2X1B
HC-WS2302-WB2X1B
Hardware
WS2 203 dpi
WS2 305 dpi
WS2 203 dpi
WS2 305 dpi
2x1 DT Labels
1 case (10,800/case)
1 case (10,800/case)

1 case (10,800/case)

1 case (10,800/case)

SoftTouch
Wristbands
Clip closure
1 case (600/case)

Clip closure
1 case (600/case)

Adhesive closure
1 case (1,600/case)

Adhesive closure
1 case (1,600/case)

MSRP
$499.00
$575.00
$700.00
$755.00
All of the products listed can also be ordered individually.
---
Interested in SATO Healthcare Kits?
WS2
Compact, convenient, and compliant, the 2" WS2 direct thermal printer is ideal for organizations in need of a high-quality, compact and robust printing solution. Featuring a disinfectant-ready, anti-microbial case, the WS2 is built to withstand frequent exposure to any of the recommended cleaning solutions, minimizing the risk of spreading infectious diseases.
SoftTouch Direct Thermal Wristbands
Provides superior patient comfort and critical patient information at the point of care, SATO SoftTouch anti-microbial wristbands improve HIPAA security compliance and remain legible after exposure to water, abrasion, cleaners, and everyday wear.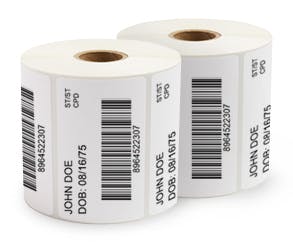 2x1-Inch Direct Thermal Labels
SATO's bright white, top coated direct thermal labels withstand harsh environmental conditions while ensuring patient privacy and adhering to HIPPA compliance by printing without the need of thermal transfer ribbon.
---
About SATO Healthcare Solutions
Comprehensive and affordable healthcare solutions not only reduce cost of operation but improve the quality of identification and empower healthcare professionals with tools to enhance their data collection needs.
Leveraging the latest barcode, RFID and wireless technologies, SATO provides reliable and innovative printers, labels and wristbands to the medical and pharmaceutical sectors to increase patient safety, improve efficiency and ensure the utmost accuracy.







Cerner Validated products from SATO can be easily integrated within Cerner healthcare IT systems to ensure safety, quality and efficacy.





As a GS1 US Solution Partner, SATO provides solutions that use GS1 Standards and support the key industry needs and requirements.