SATO Shelf Edge Labeling Solutions
SATO Shelf Edge Labeling Solutions eliminate the need to manually cut and sort temporary shelf edge labels. As a retailer your time is money; achieve greater labor and resource savings while building sales at the point of decision.

SATO's LP 100R Laser Printer and CS-9018 cutter/stacker system allows retailers to generate these labels in their own distribution centers, and then provide ready-to-apply labels without the hassle and expense of third-party printing services. For in-store operations try SATO's on-demand Shelf Edge printing solution consisting of our specialty shelf edge labels, SATO's CL4NX thermal printer with cutter.
Benefits of Using SATO Shelf Edge Labeling Solutions
Accountability: SATO provides printers, cutter/stackers, software, labels and on-site service. There is no need or advantage to source these items from multiple providers.
Scalability: SATO has designed a shelf labeling survey based upon our experience that will systematically pinpoint the best system for your particular needs; whether utilizing a Distribution Center or an In-Store system based on retail requirements.
Labor savings: Shelf edge labels are delivered to the store already cut and stacked thereby eliminating the time consuming step of separating sheets of labels in the store.
Flexibility: Allows retailers the ability to design and print their own labels on-demand for rotating promotions or at in-store point of application.
Increase sales: Numerous studies have shown that shelf edge labels have a positive impact on sales, cross promotions of other related items.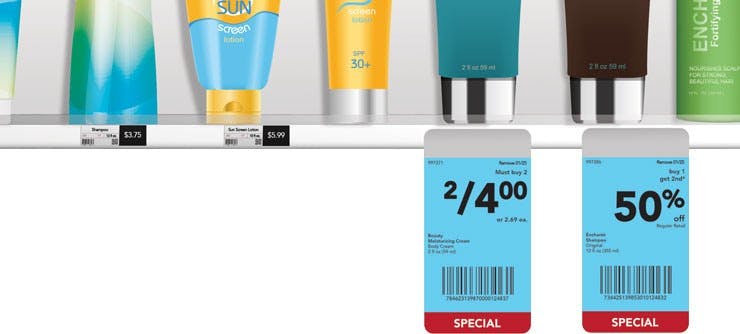 Looking for further help with labels, tags, software, connectivity of your printer, or other general applications?
Contact Us