Demonstration of strong commitment to tangible results for customers
Tokyo, November 29, 2017 – SATO, a leading global provider of Auto-ID solutions that empower workforces and streamline operations announced it received the 2017 CRM Best Practice Award and 2017 Oboshi Award from CRM Association Japan for its cloud-based IoT printer maintenance solution, SOS (SATO Online Services).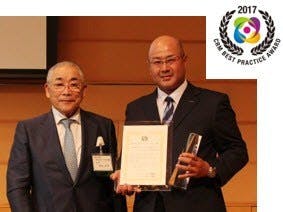 SATO CPO Noriyasu Yamada receives the award
SATO Group has set globalization and maximization of customer value as its long-term basic strategies. This award recognizes SATO for its cloud-based IoT printer maintenance solution, SOS for the second consecutive year. The system allows SATO to build deep and long-lasting relationships based on trust, by enabling remote management of label printers 24-7, 365 days a year, to provide smart maintenance support and minimize downtime during mission critical tasks.
CRM Association Japan presented SATO with the Best Practice Award for its dedication to continuously evolving functionality and service of the SOS system to improve customer satisfaction, improve employee workstyles and enable companywide visualization of operations.
SATO was also selected for the Oboshi Award, named after former CEO and Chairman of NTT Docomo and Honorary Chairman of CRM Association of Japan, Kouji Oboshi, who sought to contribute to industry through mobile wireless communication. SOS was recognized for linking hardware to the cloud and providing real-time support through connectivity between smartphones and the call center.
The award ceremony was held at the Tokyo American Club on November 10.
About SATO
SATO (TOKYO:6287) is a global auto-ID solutions provider for leading manufacturing, logistics, retail, food & beverage, health care companies. With a bottom-up understanding of on-site use applications, SATO tags items with identifiers to improve supply chain flows of tomorrow by solving managerial and operational challenges of today. An industry pioneer with 79 years of expertise and a 5,000+ strong global workforce in 27 countries, SATO engineers solutions to streamline operations, boost accuracy, support sustainability initiatives, provide assurance and emotional connections, extending value all the way to the consumer. For the fiscal year ending March 31, 2019, it reported revenues of JPY 116,179 million (USD 1.05 billion*). More information about SATO can be found at www.satoworldwide.com, LinkedIn and Twitter.
*Conversion is based on an average exchange rate of 1 US Dollar = 110.92 Japanese Yen
###
Media Inquiries - SATO Holdings