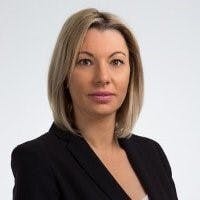 Charlotte, NC October 23, 2020 – SATO America is pleased to announce the appointment of Kerry Langley as its new Vice President of Sales. Kerry assumes leadership of the SATO America sales team, developing new business opportunities, and cultivating customized solutions to address customer challenges. Kerry reports directly to Steve Sundstrom, Senior Vice President of SATO America, at the SATO America headquarters in Charlotte, NC.

Kerry joins the SATO America team proceeding an extensive and successful career in auto-ID solutions as Oceania region head for SATO and Managing Director of SATO New Zealand. Kerry has spearheaded business strategy for the Oceania region (New Zealand and Australia), leveraging group strategy, and customer relationships over the past thirteen years, with over 20 years in enterprise sales leadership. Kerry's appointment is further evidence of the utmost priority SATO is placing on the North American market for vital strategic growth. Her proven business vision and the ability to bring ideas, solutions, and people together will help bolster innovative customer value as SATO expands its product and service lineup to meet the needs of the market.

"I am extremely excited to have Kerry join SATO America's leadership team as the Vice President of Sales," said Steve Sundstrom, Senior Vice President of SATO America. "Kerry has a proven track record of leadership and outstanding growth within SATO's Oceania region. What sets Kerry apart is her passion and drive to partner with our customers and solve their critical business problems. I look forward to working with her to drive SATO America's continued growth and success."